THE PGF SE CHAMPIONSHIPS ARE RETURNING IN 2019!

The Greater Nashville area will once again host this event from July 16-20 in 2019. Over 200 teams in 10u, 12u, 14u, 16u and 18u divisions have attended the event in last two years from over 20 states and Canada. Qualifiers have already begun. Make sure to make your plans now to attend this great event. For more information, please call 615-948-2888 or email TNPGFsoftball@gmail.com.

ALREADY OVER 170 TEAMS FROM 15 STATES!

THE FOLLOWING TEAMS HAVE QUALIFIED AND BEEN ACCEPTED INTO THE 2019 PGF SE CHAMPIONSHIPS:

Team Location Notes

10u

Alabama Elite 10u Huntsville, AL

Bat Swag 08 Lawrenceburg, KY

Central Florida Suns Longwood, FL

Goodlettsville Kaos 09 Goodlettsville, TN

Windermere Wildfire 10u Mascotte, FL

12u

Bombsquad 07 Franklin, TN

Diamond Elite 07 Hazel Green, AL

Firecrackers AR 12u-Lemley Arkansas

Florida Rage Orlando, FL

Force Cecil Lexington, KY

GC Hurricanes Hargrave Florida

Germantown Red Devils 12u Germantown, TN

Hype 2025 Gallatin, TN

Jacksonville Storm 06 Jacksonville, FL

Jacksonville Storm 07 Jacksonville, FL

Junkyard Dawgs Ashland, KY

Knights Softball 06 Nashville, TN

Knights Softball 07 Nashville, TN

KY Rockers 07 Versailles, KY

Lady Jaxx 12u Jackson, TN

LL Sluggers 06 Louisville, KY Paid

Louisville Stunners 2024 Kentucky

Louisville Stunners- Taylor

Elizabethtown, KY

Motion 06- Cain Kosciusko, MS Paid

N KY Bandits 07 Union, KY

New Lenox Lightning New Lenox, IL

Racers Fastpitch 06 Akron, OH

Tampa Mustangs- Seymour Crystal Beach, FL

Tampa Mustangs- Steeper Tampa, FL

TN Elite 2024 Smyrna, TN

TN Fury 07 Chattanooga, TN

14u

Addicktive Middle Tennessee

Alabama Elite 14u Huntsville, AL

AL Batbusters Ellison/Knighten Oxford, AL

AL Firecrackers 05 Birmingham, AL

Atlanta Flames- Russell Atlanta, GA

Beverly Bandits DeMarini 05 London, OH

Buckeye Heat 04- Villies Pickerington, OH

Cross Hit 14u Gallatin, TN

Chattanooga Cruisers 04 Chattanooga, TN Paid

Diamond Girls Mahaney Florida

Easton Elite Speed-Deese Powder Springs, GA

Easton Elite Speed-McCormack Roswell, GA

EC Bullets 04- Royster Tallassee, AL

EC Bullets Central FL 14u Florida

EC Bullets Fowler Florida

Firecrackers FL- Wetherington Gainesville, FL

Firecrackers FL- Yeary Florida

Florida Batbusters 05 Riverview, FL

Florida Premier 14u Florida

Frost Falcons 05 Spring Hill, TN

Fury Fastpitch Knoxville, TN

GA Batbusters 04 Gainesville, GA

GA Batbusters 05 Macon, GA

Gainesville Gold Thomas Rockledge, FL

Glory Adkins 2022- Vickery Commerce, GA

Hatters Gold 14u Blake Winter Spgs, FL

Hype Fastpitch 04 Gallatin, TN

IN Gators 04- Adams Indianapolis, IN

IN Gators 04- Craft Indianapolis, IN Paid

IN Shockwaves 2K4 Premier Brownsburg, IN

Indy Crush- Johnson Indianapolis, IN

Indiana Dreams 05 Indianapolis, IN

Indy Dreams Bell/Mader Indianapolis, IN

KAOS Fastpitch-BB Newport, KY

Knights Softball 05 Mt Juliet, TN

L'il Saints TN 14u Clarksville, TN

LL Sluggers 04 Marshall Versailles, KY

LL Sluggers 05 Morris Louisville, KY Paid

MI Batbusters 13u- Maloney Michigan Paid

MI Batbusters 14u- Vitale Michigan Paid

MI Finesse 14u- Kish Michigan Paid

MI Legacy 05 Michigan

MI Legacy FP 14u- Wroten Michigan

MO Bombers 04 St Louis, MO

Nashville Cruisers Elite Nashville, TN

New Lenox Lightning- JB New Lenox, IL Paid

Ohio Lasers Red 04 Ashland, OH

Ohio Outlaws Johnson Zanesville, OH

Ohio Outlaws 05- Metts OH/PA

Ohio Wolfpack 14u Canton, OH Paid

OH USSSA Pride E/S Grey Lancaster, OH

OutKast FP 05 Springfield, TN

PA Chaos- Dudley Philadelphia, PA Paid

SGS Magic 14u Toledo, OH

Softballone 05 Brownsburg, IN

St. Louis Heat 04 St. Louis, MO

Synergy 05 Henderson, TN

TC Blitz 14u Minneapolis, MN Paid

Team KY-04 Gold Bowles Louisville, KY

Team KY- Menser Richmond, KY

Texas Glory TN-2022 Atoka, TN

TN Ballhawks 04 Mt. Juliet, TN

TN Elite 04 Bailey Murfreesboro, TN

TN Fury 05 Chattanooga, TN

Turnin2 14u Kanakry Michigan Paid

TX Glory TN 2022 Atoka, TN

VA Glory 13u- ACT Vienna, VA

Virginia Unity 14u

KY/WV

16u

Aftershock Softball Lexington, KY

AL Kraze 03- Bullock Alabama Paid

Batbusters- Rudolph Murfreesboro, TN

Bo Jackson Elite Columbus, OH Paid

Central KY Fusion 01 Lexington, KY

Crush 03 Portsmouth, OH

D/S Hotshots Knoop Florida

Detroit Love Train

Detroit, MI

Firecrackers SO FL 16u Cooper City, FL

Fearless Elite 2022 Mt Juliet, TN

FL Power Black 16u Florida

GC Hurricanes Goodall Winter Spgs, FL

Georgia Fire 16u Snellville, GA Paid

HC Xplosion-16u Houston County, TN

High Intensity 02- Pate Tuscaloosa, AL

IN Gators 16u Jasper

, IN

IN Magic 16u

Lafayette, IN

IN Thunder 16u

Columbus, IN

KAOS Fastpitch-CC Newport, KY

KY Aces 16u Florence, KY

KY Clovers 16u Louisville, KY

Paid

KY Impact 03 Elizabethtown, KY

KY Impulse 16u Georgetown, KY

KY Jinx Elite Richmond, KY Paid

KY Select 03 Berea, KY

KY Softball Club Arnold Nicholasville, KY

LL Sluggers- Underwood Campbellsville, KY

Limestone Flash Athens, AL

Louisville Stunners- Tharp Harrodsburg, KY

Madison Mayhem 02 Huntsville, AL

MI Finesse 16u- Kilburn Royal Oak, MI

MO Bombers 03 St Louis, MO Paid

MS Prospects 02 Clinton, MS

Nashville Cruisers 2020/2021 Nashville, TN Paid

Nike Elite Nashville, TN

NLS Melendez Lutz, FL

Northern ICE 02 Wauconda, IL

OFC Heat 02- Conley Cincinnati, OH

OH USSSA Pride Teal Newark, OH

Rampage Clarksville, TN

Renegades Middle TN

Smash House 16u Louisville, KY

TC Blitz 16u Minneapolis, MN Paid

Team KY 16u- Roark IN/KY

Team Worth 03 Nolensville, TN

TN BallHawks 21/22 Hermitage, TN

TN Bombers Elite- Shoemaker/Cummings TN/AL

TN Elite 02 Franklin, TN Paid

TN Elite 03 Murfreesboro, TN Paid

TN Kraze Porter Murfreesboro, TN Paid

TN Mojo 04-Arnold Jackson, TN Paid

Union Lady Raiders N Kentucky Paid

White Lightning 02 Birmingham, AL

White Lightning 03 Birmingham, AL

18u

AL Kraze McCluskey 18u Alabama

Central Jersey A's Gold New Jersey

Cincy Doom 18u Gold Cincinnati, OH Paid

Firebirds '01 Shelbyville, TN Paid

FL Intensity Ralph Orlando, FL

FL Power Black 18u Florida

Force Elite Mizuno- Moore Pulaski, TN

Fury Fastpitch GC 18u Chattanooga, TN

HC Xplosion-18u Houston County, TN

Huntsville Green Flash 01 Huntsville, AL

IL Lady Hawks 18u Shorewood

, IL Paid

IN Gators 18u Jasper

, IN

IN Shock Premier 18u- Day

Indiana Paid

KY Illusions 18u Paris, KY

Lady Gators Jackson Ortiz Florida

MO Fury Gold 01 New Melly, MO Paid

N KY Bandits- Meier Edgewood, KY

Newtown Rock Gold Baker Newtown, PA Paid

OFC Heat 18u Black Cincinnati, OH

OH Outlaws Demarini Yun N. Canton, OH

OH Stingrays 18u

Mt Vernon, OH Paid

RBI Monarchs Knoxville, TN Paid

TC Blitz 18u Minneapolis, MN Paid

Team Tampa Hernandez Tampa, FL

Tennessee Bombers-Nichols Kenton, TN

Tennessee Crusaders Mt. Juliet, TN

TN Impact 18u-Nashville Nashville, TN

Windermere Wildfire Pollock Windermere, FL

GET YOUR SPOT TODAY AS WELL!!

TO REGISTER FOR THE 2019 PGF SE CHAMPIONSHIPS, SIMPLY CLICK THE LINK BELOW:

CLICK HERE TO REGISTER FOR THE 2019 PGF SE CHAMPIONSHIPS

IMPORTANT NOTICE!

All participants in the 2019 PGF SE Championships are required to sanction with PGF for the season. This can be either Regional sanctioning or Premier/Platinum sanctioning-- your choice. You may do so at the following link:

Click here to sanction with PGF

A RECAP ON THE 2018 CHAMPIONSHIPS: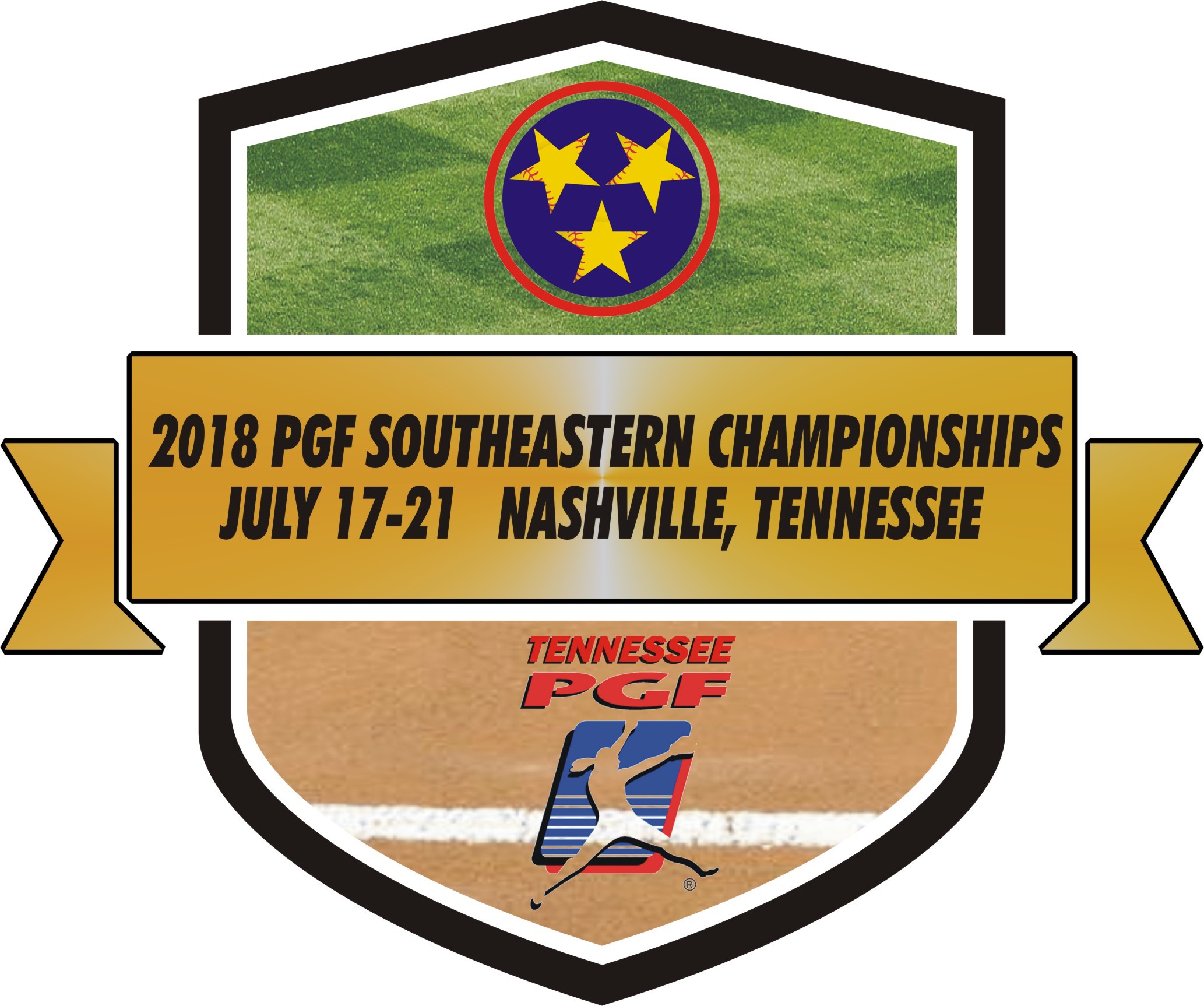 ORDER OF FINISH
2018 ORDER OF FINISH
12u Order of Finish
TN Fury 2024 Champion
Ohio Outlaws 05 Runner-up
Ohio Lasers Blue 05 3rd Place
Alabama Bombers 12u 4th Place
Florida Select National T5th
HD Fastpitch T5th
Fearless Elite 05 T7th
Georgia Fire 05 Morris T7th
Dirty South Athletics - Smith T9th
FL Pro Impact 12u T9th
Ohio Ice Blue 05 T9th
Tennessee Elite 2023 T9th
Lady Hammer Heads 12u T13th
Mojo 2024 T13th
Premier Fastpitch Trumbull T13th
Prospex 05- Wilson T13th
Fearless Elite 06 T17th
Lady Hammer Heads 10u T17th
Nashville Cruisers Cothran T17th
Tennessee Elite 2024 T17th
14u Order of Finish
GA Power DeMarini Grace Champion
D/S Hotshots TN 2022 Runner-up
EC Bullets- Scarborough 3rd Place
EC Bullets- Smith 4th Place
Madison Mayhem 03 T5th
Team Easton Russell T5th
Clearwater Bombers 04 T7th
Tampa Mustangs Neptune T7th
Atl Premier 03- Thompson/Cothern T9th
Gold Coast Hurricanes Boggess T9th
LIDS IN Dreams 04- Walters T9th
Louisville Lady Sluggers- Zuege T9th
AL Firecrackers 03 T13th
All-Out 04 T13th
Atl Premier 03 Bourrie T13th
TN Elite 03 T13th
Easton Elite Speed 14u T17th
Firecrackers GA Wolaver 03 T17th
Frost Falcons 03 T17th
GA Power 04 Schroyer T17th
Hatters Gold 14u Blake T17th
Indiana Primetime Softball 14u T17th
USSSA Pride ATL '03 T17th
Windermere Wildfire Janata T17th
Alabama Kraze 04 T25th
Atl Premier 03 Thomas T25th
IN Shockwaves 04 T25th
MS Elite 04- Reese T25th
Nashville Cruisers Premier T25th
Team GA 04 Payne T25th
Tenacity Fastpitch T25th
Tennessee Ballhawks 04 T25th
2022 Texas Glory Tennessee T33rd
All-Out 03 T33rd
Atl Premier 04 Tillery T33rd
Fearless Elite 04 T33rd
GA Fire 04- Price T33rd
GA Power '03- Lunsford T33rd
Louisiana Blazers Elite 14U T33rd
Lookouts 03 T33rd
L V Patriot Flames 14u Elite T33rd
Nashville Cruisers Elite- Barnes T33rd
16u Order of Finish
AL Sparks Elite Champion
Ohio Lasers Silver 01 Runner-up
Firecrackers GA Sileo 3rd Place
Browns Mill Lady Jackets - Fulton 4th Place
Easton Elite Speed-Monsour T5th
Ohio Storm 02 T5th
Firecrackers 01 Todd T7th
Ohio Lasers Purple 02 T7th
GA Fire - Buffington T9th
Indiana Magic Knipp T9th
Nashville Cruisers- 2019 T9th
Tennessee Flames 02 T9th
Firecrackers FL Bias T13th
Firepower T13th
Mid TN Force 01 - May T13th
Nashville Cruisers '02 T13th
Alabama Bombers 16u T17th
Firebirds '01 T17th
Firecrackers FL Leverett T17th
Flames Gold T17th
KC Freedom GA Farrell T17th
Nike Elite T17th
S. Jersey Mystics 16u Select T17th
Team Kaos 03 T17th
All Sports Fusion T25th
GA Force – Wilber T25th
Kentucky Magic 16u T25th
Nextlvl Lady Eagles 16u T25th
Synergy- DeGroat T25th
18u Order of Finish
007's Blue Champion
TN Ballhawks 2000 Runner-up
GA Force Powell/ Turner 3rd Place
Clearwater Bullets 18U Gold 4th Place
Plainfield Burn 18u T5th
TN Angels Premier T5th
So Cal Athletics 18u T7th
TN Fury 2000 Wood T7th
Clearwater Bullets- Klinefelter T9th
Mid TN Force- Richardson T9th
Nashville Nighthawks 2000 T9th
TN Snipers T9th
00 Birmingham Bandits 13th Place
Be sure to check out the numerous discounts available with your event wristband- scroll down for more details!
THE POOL GAME SCHEDULES, POOLS & RULES HAVE BEEN EMAILED TO ALL COACHES ON THE EVENING OF WEDNESDAY, JULY 11TH.
THE LINKS FOR THE POOL GAME SCHEDULES AND BRACKET GAMES ARE ALSO POSTED BELOW:
Pool play games
12u link:
CLICK HERE FOR 12U POOL GAMES SCHEDULE
14u link:
CLICK HERE FOR 14U POOL GAME SCHEDULES
16u link:
CLICK HERE FOR 16U POOL GAME SCHEDULES
18u link:
CLICK HERE FOR 18U POOL GAME SCHEDULES
BRACKETS
12u link:
14u link:
16u link:
18u link:
COLLEGE COACHES-
Please let us know that you'll plan to be here this year! Just email us at
TNPGFsoftball@gmail.com
and let us know. We'll have an event pass and a packet waiting for you upon arrival.
BE SURE TO FOLLOW US ON TWITTER
(@TEAMWORTH95 AND @TENNESSEEPGF)
FOR ALL LIVE UPDATES THROUGHOUT THE EVENT. TWITTER WILL BE OUR PRIMARY ON-SITE METHOD FOR ANY WEATHER UPDATES THAT ARE NECESSARY.
The following establishments in the area all offering the listed discounts when you are wearing your admission wristband for the 2018 PGF Championships:
Black- Eyed Pea
164 East Main Street
615-264-3005
15% off with wristband
Bojangles
246 Indian Lake Blvd
615-822-1448
10% off with wristband
Brixx Pizza
300 Indian Lake Blvd
615-826-5907
15% off with wristband
Buffalo Wild Wings
310 Indian Lake Blvd
615-824-2199
10% off with wristband
Dunkin Donuts
206 Indian Lake Blvd, Suite 1
615-431-2840
10% off with wristband (excludes ice coffee)
First Watch Café
271 Indian Lake Blvd.
615-824-3441
20% off with wristband
Maggie Moo's
200 Anderson Lane N, Suite 108
615-824-4373
10% off with wristband
Myer's Front Porch
162 East Main Street
615-447-5556
15% off with wristband
Penn Station
202 Anderson Lane N, #105
615-431-0423
20% off with wristband
Wendy's (all Middle TN stores)
168 East Main Street
615-824-1373
$2 off Large Combo Meal with wristband
$2 off Full Size Entrée Salad with wristband
MORE INFO BELOW AS WELL- BE SURE TO SCROLL ALL THE WAY DOWN!
HOTEL INFORMATION
If you need hotel accommodations for the 2018 PGF Southeastern Championships, be sure to contact our housing partners for this event: Traveling Teams. They handle PGF events across the nation and they have set up a convenient online link to search all of the available nearby properties and have negotiated GREAT DISCOUNTED GROUP RATES FOR ALL TEAMS THAT WILL BE ATTENDING. You can access the listings at the following link:
CLICK HERE FOR HOTEL INFORMATION FOR THE 2018 PGF CHAMPIONSHIPS
You may also contact Traveling Teams directly toll-free at (866) 468-3268.
EVENT SCHEDULE
The 2018 PGF Southeastern Championships will have the following schedule:
Monday, July 16- Team Check-in and Opening Ceremonies at Drake's Creek Park in the Nashville suburb of Hendersonville, TN
Tuesday, July 17- Pool play games will begin for all age groups
Thursday, July 19- Bracket play games will begin for all age groups
Saturday, July 21- Championship games for all age groups
Please note that if weather affects some portion of the event, we may conclude the event on Sunday, July 22.
EVENT DETAILS
Team Check In and Opening Ceremonies will be held on Monday, July 16 at Drake's Creek Park, which is located at 161 Indian Lake Blvd., Hendersonville, TN 37075. The main entrance to the park is located off of Main Street and there is also a side entrance off of Indian Lake Blvd. We will begin Team Check In no earlier than 3p (CDT) on Monday the 16th. Tables will be set up adjacent to Field 1 and the football field for teams to check in. The entire team is not required to be present to check in. Only one member of the coaching staff needs to be present. The staff member will present a copy of the team's insurance at check in and will verify the team's roster. The staff member will also receive several items from us at check-in as well including:
--Team and coaches' gifts
--Coaches wristbands (to be worn throughout the event- no exceptions)
--Discount coupons for use throughout the area
--Lineup cards specifically for use throughout the event (a copy of these will also need to be presented to the PGF staff after EVERY game with the final score)
Teams may check in as they like throughout the afternoon, but PLEASE make sure you have someone check your team in or your team will not be allowed to participate. Team Check In will remain open until the conclusion of Opening Ceremonies on the evening of Monday, July 16th.

Food trucks from the following vendors will be on-site for Opening Ceremonies:
Blue Monkey Shaved Ice
Bobs Fish Fry
Music City Brisket
Doxies Pizza
Tacos Aurora
We'll also have a complimentary Photo Booth for all to enjoy throughout Opening Ceremonies as well!!!
TRADING CARDS
Get your own personalized TRADING CARDS for trading at the 2018 PGF Championships!
PGF and Dinger Select Trading Cards will be kicking up the fun! Grab your 2018 Dinger Cards to trade with other players during the 2018 PGF Championships in Nashville. The cards look and feel like a "big league" card with stats, team name etc. and are designed to the color of your team logo. Don't sit on the bench- get yours today. Click on the link below to order yours today! Special times will be set aside for trading during opening ceremonies, don't miss out.
Click on the link at the link below to start the process. Fill out all the info for the front and back of the card, select the style and the amount, checkout and we will do the rest. Cards will be shipped in time for tournament trading. It's an experience that you will not soon forget. Parents don't let you players sit on the sideline.
CLICK HERE TO ORDER YOUR OWN PERSONALIZED TRADING CARDS
Trading your own personalized cards will be thing to do in 2018. Each and every year thereafter, collect cards from players across the country. Make memories that will last a lifetime. Personalized stats and player information enhances the experience and creates a bond with opposing players that will last.
Gift bag exchange—this is a tradition at Nationals and we certainly plan to honor it for those that want to participate. It especially is enjoyable for the younger teams. As such, we'll suggest that all teams in the 10u and 12u divisions may feel free to exchange gift bags with their first pool game opponent prior to the game. In the 14u, 16u and 18u divisions, we'll leave this process as an option only for the teams that choose to participate. Once the pool game schedule comes out, if your team (in 14u, 16u or 18u) desires to exchange gift bags with your first pool game opponent, we recommend that you shoot them a quick email and verify that they would like to do the same. If they do not, please let us know and we'll keep a running list of teams that do not have a gift bag exchange partner and we'll pair you up with a team that wants to participate.
Pin Trading— This is another Nationals' tradition and we certainly encourage anyone that would like to participate to feel free to do so at both Opening Ceremonies and throughout the week.
Gate passes— each team will receive three coaches' wristbands that must be worn throughout the event for entry as well. Anyone without a wristband will need to pay for admission either with a weekly pass wristband or a daily pass wristband (no exceptions) and must wear the wristband whenever at the park. Weekly pass wristbands will be available on Monday (throughout the evening near the Team Check In tables), Tuesday and Wednesday (at the entry tables near each group of fields throughout the park) and daily pass wristbands will be available each day of the event (also at the entry tables near each group of fields throughout the park). The prices for the weekly and daily pass bands are as follows:
Weekly Pass: $30
Daily Pass: $8 each day
Children 10 and under are free of charge
PLEASE ALSO NOTE THAT SEVERAL DISCOUNTS HAVE BEEN ARRANGED FROM AREA BUSINESSES AS WELL AND ALL REQUIRE THAT YOU ARE WEARING A WRISTBAND FROM THIS EVENT IN ORDER TO RECEIVE THE DISCOUNTS. YOUR COACHES INFO PACKET WILL HAVE MORE DETAILS ON THE DISOCUNTS AND ESTABLISHMENTS THAT ARE OFFERING THEM.
Online score tracking and more—Tennessee PGF will be updating scores online throughout the event at our website (www.tennesseefastpitch.com) in the Championships section. We will also have specific updates available via Twitter (@TennesseePGF). Because of its immediate nature, Twitter will be our primary method of information dissemination for all weather-related matters. Please make sure that you and/or players on your team are following us on Twitter before the event begins to assure that you stay fully updated. We will also try to pass along updates via the website, but Twitter is much faster. So be sure to set this up prior to the event beginning.